Week Two of the ESL PUBG Masters Americas Grand Final has arrived! Starting tonight, teams will have twelve matches to claim as many Chicken Dinners as possible, making each round as important as the last. Results from Week One will play a role in our overall winner conversation towards the end of this week, but they won't affect where teams begin the chase for first place tonight. Starting with a fresh slate, which teams will take a step in the right direction across Day One's four matches?
The obvious front runner has to be Oath after their Week One victory. Three Chicken Dinners secured the team first overall last week, but it also positioned them to close out this event as ESL PUBG Masters Americas Champions. How will they follow up their strong performance from Week One? The answer to that question could present itself Friday night. It's also important to remember that the team's victory materialized during the final match of the week. The competition was close and as we came down to the wire, numerous teams could have walked away on top. A Creche, Fiumba, and Gascans had an opportunity – how will they bounce back this week?
Week One wonderfully showcased the parity throughout this Americas Grand Final lobby. All sixteen teams are incredibly skilled and capable of snagging a Chicken Dinner when an opening is presented. Coming into this event, there wasn't as much consideration as with other squads surrounding Fiumba and A Creche. These two were certainly the surprise performers from Week One and will enter their second week aiming to replicate their success from last weekend.
Dignitas, Trogloditas, and Team Veritas were a triplet of squads that managed to claim a single Chicken Dinner and earn top-eight placement. These teams are all worthy of mention when taking a look at our leaderboard for Week Two. The roster for Dignitas is incredibly talented and should really be outperforming a few of the teams who beat them out last week. It's a squad with four incredibly skilled players, who are coached well and have played on the brightest stages of PUBG Esports. Top-Three feels like a must during Week Two.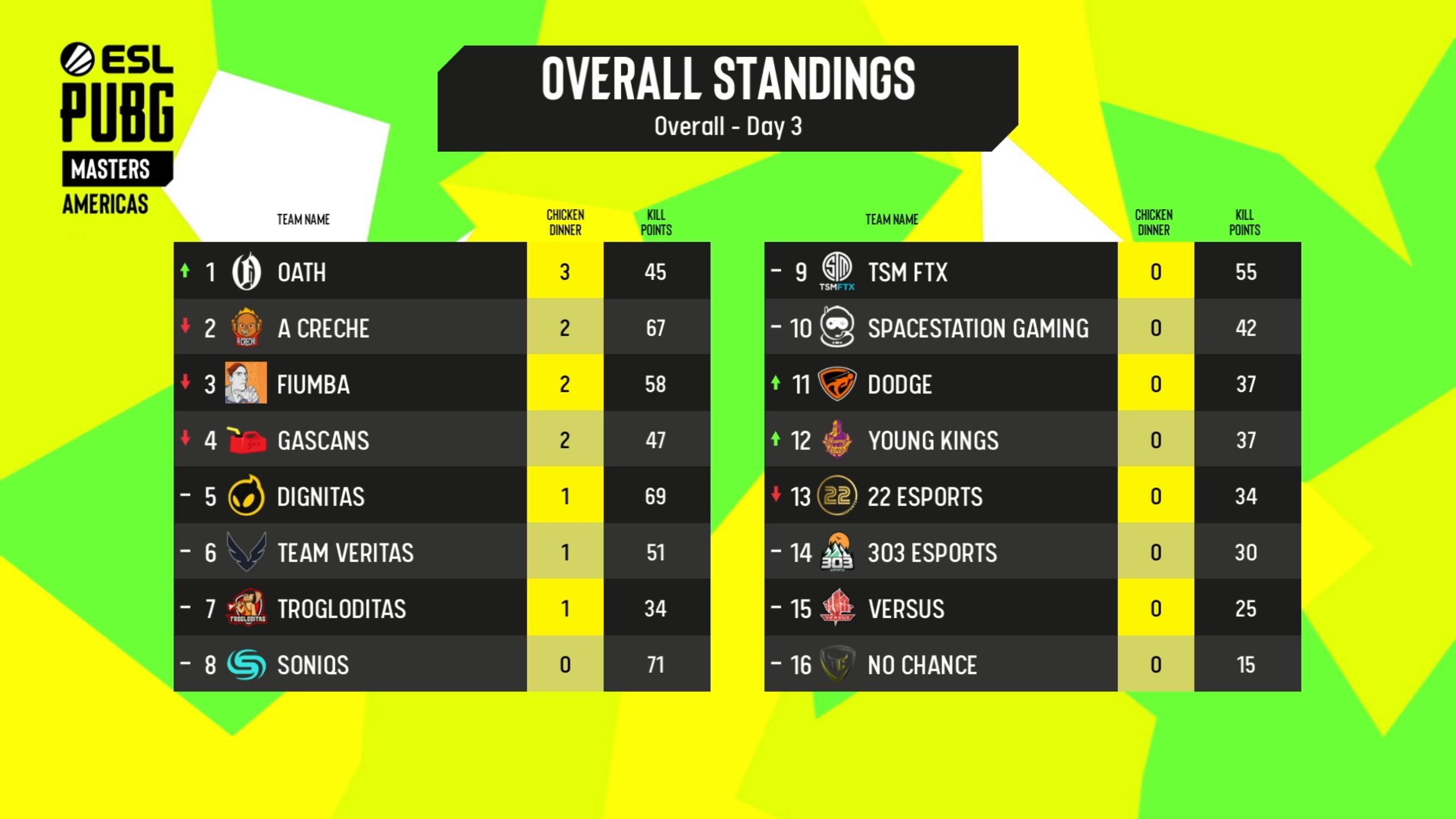 Looking over the leaderboard for Week One, there are a few teams we've come to expect at the top absent from last week's standings. Soniqs, TSM, and Spacestation Gaming were unable to claim a Chicken Dinner over the twelve matches played one week ago. It isn't something anyone could have predicted considering the consistency of these squads lately. Especially the Soniqs, who by all signs heading into the event, were on their way to another championship finish.
Pressure to win is only going to rise through Week Two as teams fight to close out the event on a high note. Overall standings will be determined by the total prize pool across from both weekly series. So, teams who finished strong last week are the current front runners to claim first overall with another solid outing this week.
WHERE TO FOLLOW
The ESL PUBG Masters Americas Grand Final will be broadcasted live on:
Be sure to follow PUBG Esports on social media to stay up to date on everything.