Apparently the farther we get into this event the more dramatic and exciting the Weekly Final becomes! This past weekend produced another action-packed series filled with incredible highlights and outstanding performances from a couple of teams, all fighting for their share of the $200,000 USD prize pool. Considering the prize money nearly doubles with each Weekly Final, the stakes of every match are slowly building as we advance in PGI.S. It's resulted in some of the most entertaining matches for PUBG Esports fans tuned in all around the world.
On Saturday and Sunday, the top sixteen teams from the week prior faced off in a best-of-ten to determine who would collect the $100,000 USD first-place prize. Weekly Final 3 started with a pair of EU powerhouses established atop the leaderboard, both FaZe Clan and Virtus.pro picked up Day One victories and positioned themselves for a piece of the prize money if they managed to play well on Day Two. Now that's always an easier task said than done but FaZe Clan entered Day Two with an eight-point lead on VP and only five games to hold off their nearest competitors.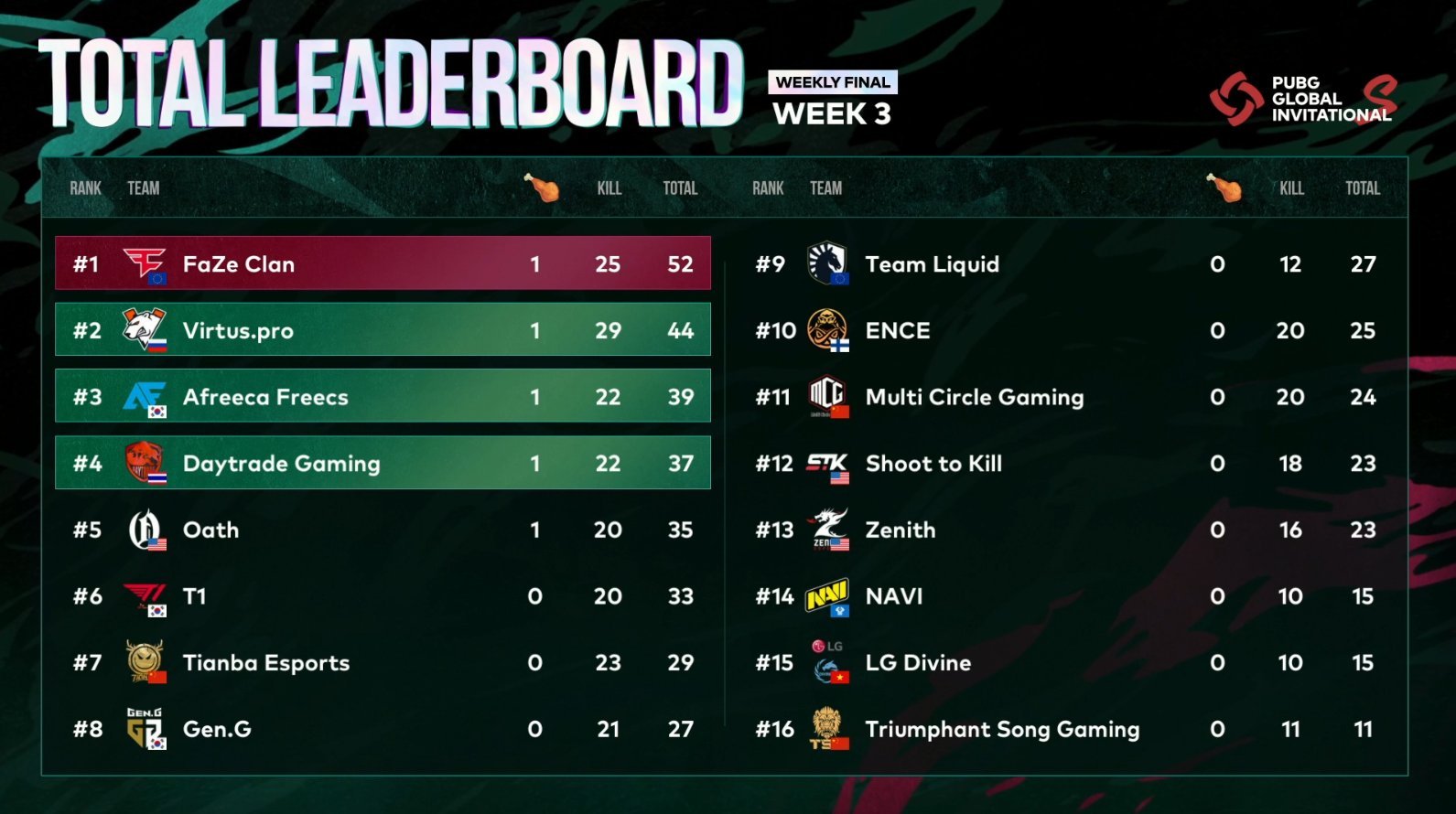 As for Virtus.pro, the team produced one of the most impressive single-game performances on the global stage and it happened in a Weekly Final! During Match 4 of this past weekend's five games, Virtus.pro collected twenty kills along with the victory to send themselves flying up the leaderboard. An incredible individual performance from Lu resulted in twelve kills for a single member, quite possibly a new record in its own regard. Without this monumental round from VP, the team wouldn't have secured their second-place finish in last weekend's final. In the end, a pair of back-to-back FaZe Clan wins would prove to be enough to reach and surpass Virtus.pro in first, securing FaZe the largest payout at PGI.S so far.
For our three North American teams competing in Weekly Final 3, only Shoot To Kill would secure a top-four placement, doing so in the team's usual dramatic fashion. More on that in our highlights below. Oath Gaming won the opening match of the weekend but was unable to keep pace with the kills points being collected by opposing teams. They were able to find placement points for the majority of their matches, only placing outside of the top-eight in three rounds. Ultimately, I thought Oath and Zenith played decent matches this past weekend, but the finish was not there for either team this time around.
 JUST PIO DOING WHAT PIO DOES BEST
Dropping into Match 4 of this weekend's final, one member from Gen.G and DayTrade found themselves falling without a parachute after striking the canopy of Erangel's sprawling forests. After landing on top of a shotgun, Pio immediately makes a break for the downed DayTrade player nearby.
Pio was clearly aware of DayTrade's nearby knock, and his decision to instantly push a team who had not looted weapons yet added one kill point towards GenG's eventual second-place total. As for the shot itself, Pio makes an easy pull-up look even cooler with the airborne shotgun to knock the member of DayTrade.
 VIRTUS.PRO PUT THE WORLD ON NOTICE
After a slow start to kick off this Weekly Final, Virtus.pro found themselves on Erangel playing one of the team's best matches yet. This game was extremely impressive to watch, and if you happened to miss it, I highly recommend you going back to watch the VOD soon! This highlight picks up just before the Phase 9 zone reveals itself, and VP is sitting with 15 kills. They completely erase Afreeca Freecs from this lobby and then turn their attention towards the final two members of FaZe Clan.
This game may not have surpassed the twenty-two kill performance from Zenith Esport in last week's survival matches, but it deserves similar respect considering the stage it was on and the impact it had on the team's overall placement. Also, Lu collected himself an absurd twelve kills, potentially setting the single-game kills record for an individual player. This win paved the way for VP to take second place overall, earning them a handsome $50,000 USD.
 SOMETHINGS JUST NEVER GET OLD
More and more often, we're beginning to see players utilize bolt-action rifles throughout PUBG Esports. These weapons provide an effective and satisfying way of knocking and eliminating enemy players. However, many opt for the easily spammed DMR's that occupy the majority of pro players' secondary weapon slot. That's why when someone is using a bolt-action and they manage to land a beautiful shot, AND it's caught on the broadcast, I'm obligated to include it in our highlights post.
In this highlight, SKUIJKE from ENCE picks out one player from LG Divine as they retreat from thier position on the bride. The timing is difficult considering the player is pulling away in a vehicle, but SKUIJKE nails the shot and deserves a spot in our highlight recap!
 NEVER COUNT OUT SHOOT TO KILL
Shoot To Kill entered the tenth and final match of Weekly Final 3 in ninth-place, eighteen points outside of the money and fourth-place team. Over the course of their final match, STK would collect an insane seventeen kills and finish in second place to send themselves flying up the leaderboard into fourth. Once again, the team has shown why you cannot count them out when they're down during a major final, especially on the final day.
STK took any fight that was in their vicinity during this final match, and they came out on top in almost every one of them. Taking out the majority of Team Liquid, Gen.G, and ENCE to secure their position.
Their kill onto the final member ENCE sent the team up the leaderboard and into fourth place, completing their incredible run from ninth to fourth in the last match of this weekend's final. They did the unthinkable to earn themselves another $25,000 USD, while also winning a lot of fans some Esports Points in the Pick Em' Challenge!
 FAZE CLAN HAS OFFICIALLY ARRIVED
Day One belonged to FaZe Clan as they won Match 3 and took second in two others across the first five matches. Though it was the team's slow start to the second day that opened the door for Virtus.pro and others trailing just behind. Luckily for FaZe and the fans cheering them on, they were able to reassert themselves in the final two matches of this Weekly Final, recapturing the first-place position while fending off Gen.G in this highlight from Match 9.
An even four-on-four clash between two of the greatest teams to ever play the game delivered an exciting finish as both teams fought to overtake Virtus.pro in first. The exchange quickly shifted in GenG's favor, but some incredible shots from FaZe turned the fight around. Their win in Match 9 set up an even more intense match in the tenth and final one.
After playing nine matches across two days, the champion of Weekly Final 3 and the winner of its $100,000 USD grand prize would be determined by a single match. If you're a fan of FaZe Clan, it's tough not to like your odds.
As the teams who sent themselves in towards "chopsticks" torn one another apart, FaZe Clan played calm and methodically moved with the zone during the late-game. This allowed FaZe to pick up the points that were presented to them, but they weren't forced to go all-or-nothing to secure the victory. Ultimately, their performance over the two days showed us why they're still one of the most talented and experienced teams in PUBG Esports. It also revitalized everyone's favorite phrase to use during a major weekend with a lot on the line, "FaZe Sunday".