After three rounds of open qualifiers, eight teams have promoted themselves to the PCS4 Americas NA Group Stage where they will face off with sixteen teams waiting in the wings. Each of the twenty-four squads now has an opportunity to continue their journey and secure a spot in the PCS4 Americas Grand Final where prize money and PGC qualification points will be awarded. That's where every player on every team wants to be, but first, they'll have to fight through a six-day Group Stage to prove themselves against the best from their region.
The top sixteen teams from the ESL PUBG Masters NA Group Stage received direct invites to the PCS4 Americas NA Group Stage. The additional eight teams arrive following their run through an open qualifier gauntlet that demanded the best of them. In this Group Stage, each squad is aiming to place inside the top six to earn an invite to the PCS4 Americas Grand Final. Our twenty-four teams have been divided up into three groups that will play a total of thirty matches across six days. Those that achieve a top-six placement automatically advance into the PCS4 Americas Grand Final, and unfortunately, teams sitting in the bottom ten will see their event come to an end here.
Group Stage (SUPER) – 24 teams
16 from ESL PUBG Masters Group Stage + 8 from Qualifier Round 3
5 Matches each day over 6 Days
Week One: May 14-16
Week Two: May 18-20
However, the teams that place between 7-14 in both regions will combine for one final shot at qualifying for the Grand Final in the Last Chance Qualifier. Eight teams from each region will play twelve matches across two days to determine the four teams rounding out the Grand Final lobby. This will be their "last chance" to earn themselves a spot in the final.
Bringing us the action will be the familiar faces that have already helped deliver many of the biggest PUBG Esports moments this year. Our fan-favorite casters and analysts are back for another round in the PUBG Continental Series!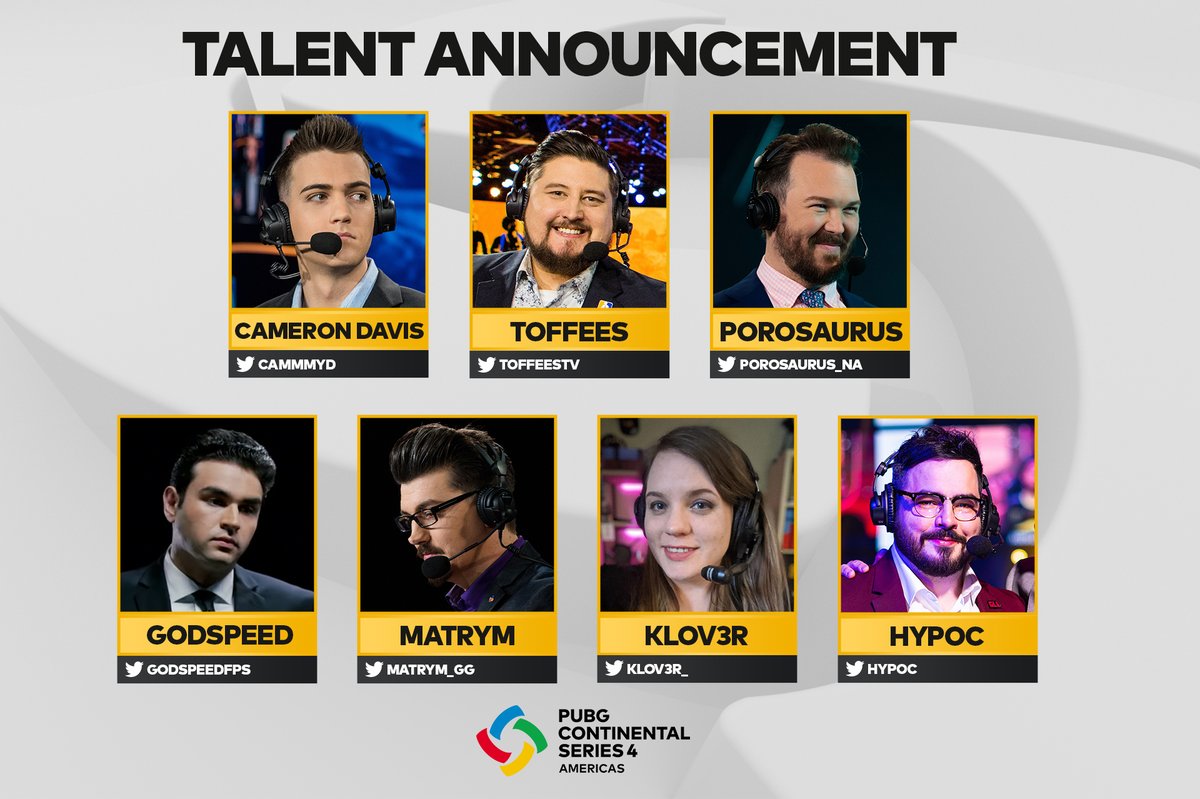 The PCS4 Americas NA Group Stage will feature some of the biggest stars in PUBG Esports fighting alongside teams looking to make their mark in this event. Starring many talented players and successful teams, this Group Stage is bound to produce an exciting stretch of matches as teams work towards the PCS4 Americas Grand Final.
WHERE TO FOLLOW:
The PCS4 Americas NA Group Stage will be broadcasted Live on:
Be sure to follow PUBG Esports on social media to stay up to date on everything PCS4 related.