Trending in both directions, all sixteen teams fought their way through the opening week of the PCS5 Americas Grand Final. Cruising down the path to victory once again, the Soniqs established themselves as the team to beat through the first twelve matches – claiming three Chicken Dinners and the $17,000 USD Week One prize.
Soniqs' knack for finding a strong position within the zone, paired with timely decisions by the team's veteran leaders, paved the way for the North American powerhouse during Week One. Accumulating ninety-three kills to accompany the team's three-match victories, the Soniqs gradually established a lead too great for any of their nearest competitors.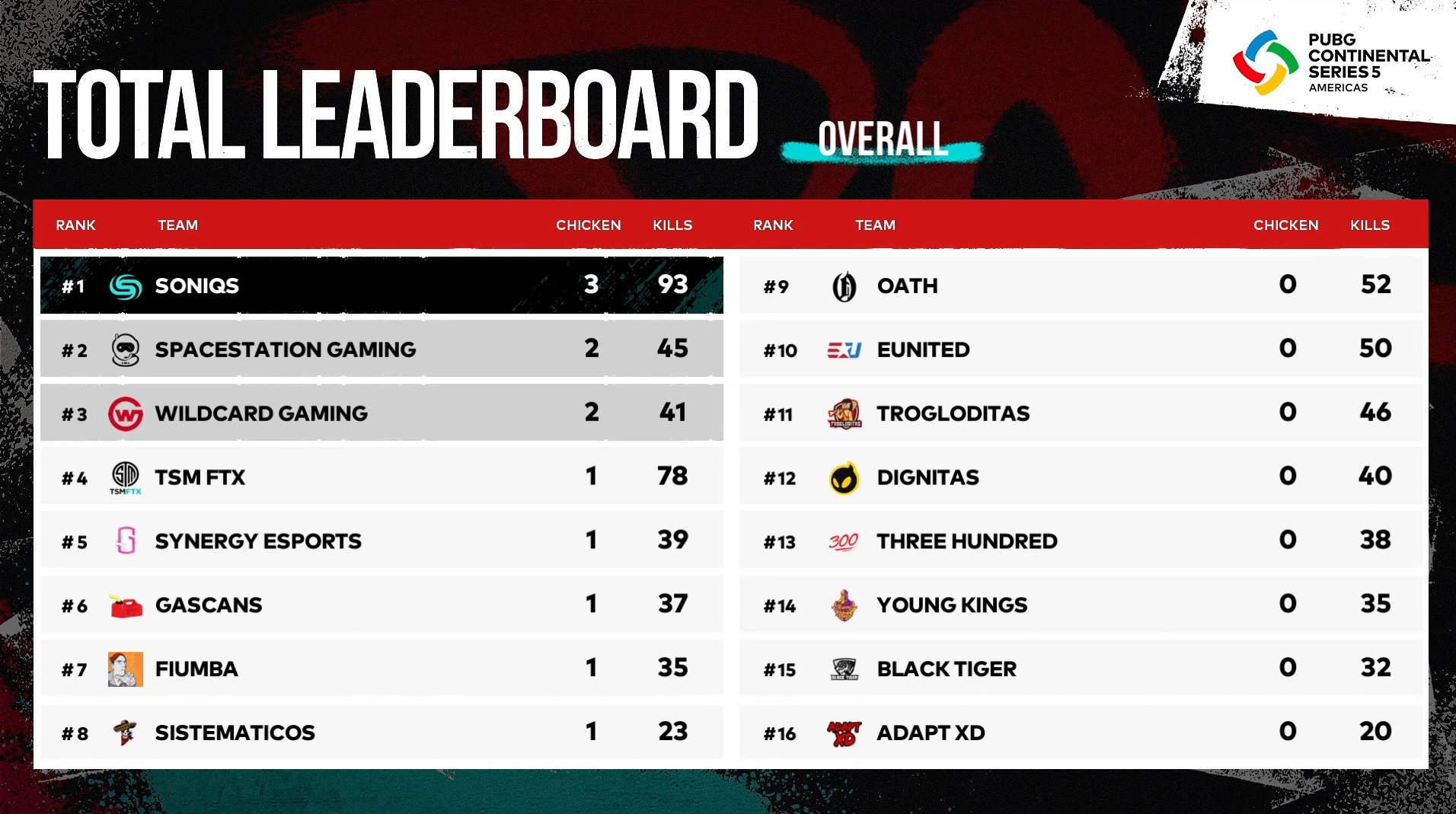 SONIQS
The PCS5 Americas Grand Final features an escalating prize pool system with larger awards as we journey further into the event. Based on Week One results and performances, it may be the best chance teams have to keep up with the Soniqs. The team's impressive play to kick off the Grand Final was similar to that of other major events where we've witnessed this squad dominate.
Looking back over Week One, it's easy to tunnel vision on the success had by the Soniqs. However, two teams did pick up a pair of wins to position themselves just behind, rounding out the top three. Spacestation Gaming and Wildcard Gaming each claimed two Chicken Dinners and began their Grand Final on a strong note.
SPACESTATION GAMING
Spacestation Gaming edged out Wildcard for the second-place position thanks to their forty-five kills assembled across the twelve matches. Coming into this event with a lot of talk surrounding the team's ability to win, including their potential as a true contender, SSG arrived ready to play in Week One.
Their in-game leader 'Roth' recorded twenty kills across the twelve matches, the most for his squad and tied for fourth overall. The team's set of Chicken Dinners came on separate days, and on different maps, ultimately earning them second place and $12,000 USD to start their Grand Final.
TSM FTX
Nearly picking up their second Chicken Dinner of the opening week on Day Two, TSM FTX ended Week One as the highest-ranked one-win team. Their seventy-eight kills ended up being the second-highest behind the Soniqs with ninety-three. However, an elusive secondary match victory would keep the ironmen of PUBG outside of the top three this week.
TSM FTX's success on Miramar could be the team's path to victory during the Week Two action. Three consecutive top-three placements on the desert dunes of Miramar highlighted the team's Week One performance – leading to their fourteen-kill win to start things off on Day Two.