PCS5 Americas Grand Final resumed with Week Two and sent the region's best into action to compete for prize money and PGC Points.
Week Two of the PCS5 Americas Grand Final has laid the groundwork for an exciting sprint to the finish. Collecting four match victories across the twelve-match series, Oath edged out their competition and finished Week Two on top. Combined with the team's second-place outing in Week One, Oath has overtaken the tournament's first-place spot with a week left to play.
Oath has proven to be one of the most consistent teams as of late. Prior to the start of PCS5, the team was crowned champions at the ESL PUBG Masters Americas Grand Final. Competing against many of the very teams and players occupying the PCS5 lobby, Oath's recent results speak for themselves. When watching the team, it appears they've taken a massive step in their development and playing as a synchronized unit.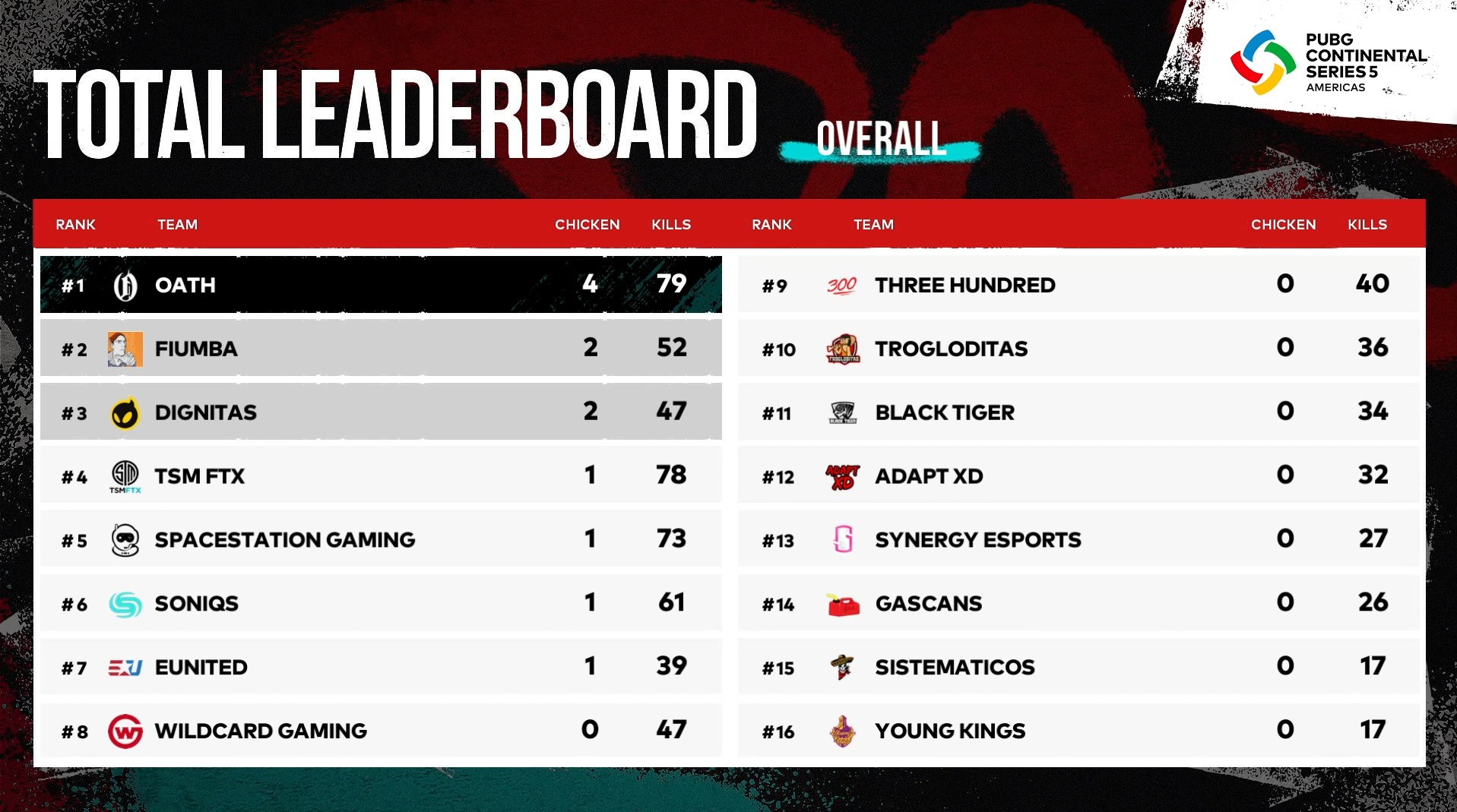 After a routine first-place performance during Week One, the Soniqs were off to a slow start to open Week Two. Through the twelve-match series, the defending PGI.S champions had claimed just one Chicken Dinner. Coming off an impressive series to begin the tournament, the Soniqs were forced to play without their in-game leader 'Hwinn' on Day 2. He was substituted by 'Hambinooo' who is an excellent player to fill but could never match the team's decorated IGL.
Week Two was packed full of highlights and moments deserving of another look. Here are some of this week's best moments and plays from the PCS5 Americas Grand Final.
 OATH
Picking up one of the team's four Chicken Dinners during Week Two, Oath traded back and forth with Trogloditas as Match 6 came to a close. The two teams exchanged knocks and the final fight would come down to Relo. During this fight, Oath manages to revive one member and continue the team fight, a pivotal moment during this fight for the win.
 TSM FTX
Claiming the team's single Chicken Dinner of Week Two during Match 7, TSM FTX added another 14 Kills to their total in this round. Though the Most Chickens format has changed the value of each kill, they remain as the deciding tie-breaker for anyone with the same number of match wins. That kill total tie-breaker is exactly how TSM FTX finished as the highest-ranked one-win team this past week. Tallying a total of 78 over the twelve-match series, this team collected frags with ease during Week Two.
 EUNITED
During late-game scenarios, the Chicken Dinner is typically awarded to the team with the most number of players still standing. In Match 8, eUnited played close to the Phase 9 blue zone as Trogloditas and Wildcard clashed exiting their hardcover. eUnited took control of the closing circle and ultimately settled this match with a win.