The first week of the PUBG Continental Series 7 Grand Final is officially behind us. While the leaderboard is partially filled out, there is still plenty of time for remaining teams to own their own fate as we approach the second weekend of action.
Two teams lead the pack while a number of squads nip at their heels. Let's take a look at what happened during the first weekend to see who will have a target on their backs heading into this weekend.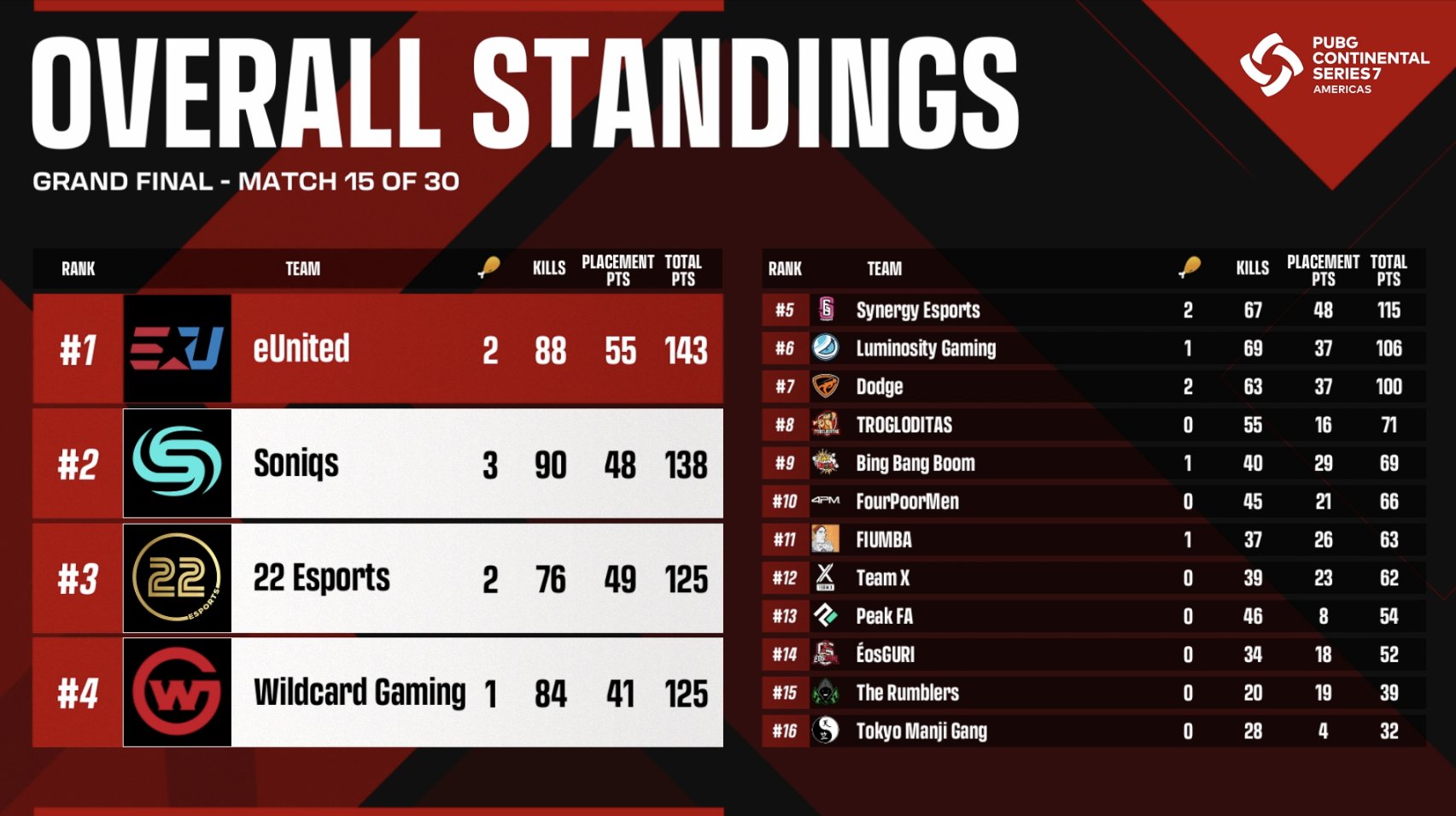 North America on top
Soniqs and eUnited – two teams who have performed well throughout 2022 – lead the pack at this point in the PCS7 Grand Final. eUnited leads Soniqs by five points with a total score of 143. These teams are barely a molotov throw apart.
Both teams have been hot throughout the first 15 matches, although eUnited has been slightly more consistent with 7 more placement points than Soniqs. Soniqs, on the other hand, have been explosive.
It's been said that 3 is a lucky number and Soniqs appear quite lucky. Hunter "hwinn" Winn and company have three chicken dinners on top of three third place finishes within the first weekend. That – alongside a tournament high 90 kills – has placed them within spitting distance of eUnited.
Latin America on the rise
It should be no surprise because they've been here before, but 22 Esports is sitting in third on the PCS7 leaderboard. This team, as well as the North American squad Wildcard Gaming, is sitting comfortable at 125 points.
Five squads are currently within 43 points of eUnited. That includes 22 Esports, Wildcard Gaming, Luminosity Gaming, Dodge and one surprise: Synergy Esports. This squad – made up of Latin American players from Argentina, Chile, and Paraguay – is currently sitting at 115 points after an especially impressive run during the first 15 matches. A run that includes two chicken dinners and three other top 5 finishes.
It's safe to see that this Synergy is the surprise of the Grand Final. Synergy barely squeaked by in the Latin America Regional Playoff by placing sixth. That's the final regional spot that qualified for the Grand Final, making the squad's current placements rather impressive. 
We'll be keeping an eye on them and all 15 other squads as we head into the final stretch of competition.
Where to watch the PCS7 Grand Final
The second weekend of action can be watched on the official PUBG Twitch and YouTube channels. Here is the schedule for the remaining three days of play:
Day 4 – Sept. 23 4:00 pm PDT
Day 5 – Sept. 24 4:00 pm PDT
Day 6 – Sept. 25 4:00 pm PDT
PCS7 is one of the final competitive PUBG tournaments of the year so stay tuned for all of the remaining action.
See you on the Battlegrounds!
WHERE TO WATCH / FOLLOW
Check out our PUBG Esports content channels for VODs and streams:
Be sure to follow PUBG Esports on social media to stay up to date on all the action.
SHARE THIS