Three rounds of the PUBG Continental Series 7 Open Qualifiers are behind us. The teams for the Latin America and North America Regional Playoffs are set. 24 teams from each region will continue to fight for a chunk of change and a spot in the Grand Final. Let's break down the Open Qualifier and what to expect going forward.
61 teams from North America began the Open Qualifier on August 10th. Now – one week and three rounds later – eight teams will advance to the Regional Qualifier.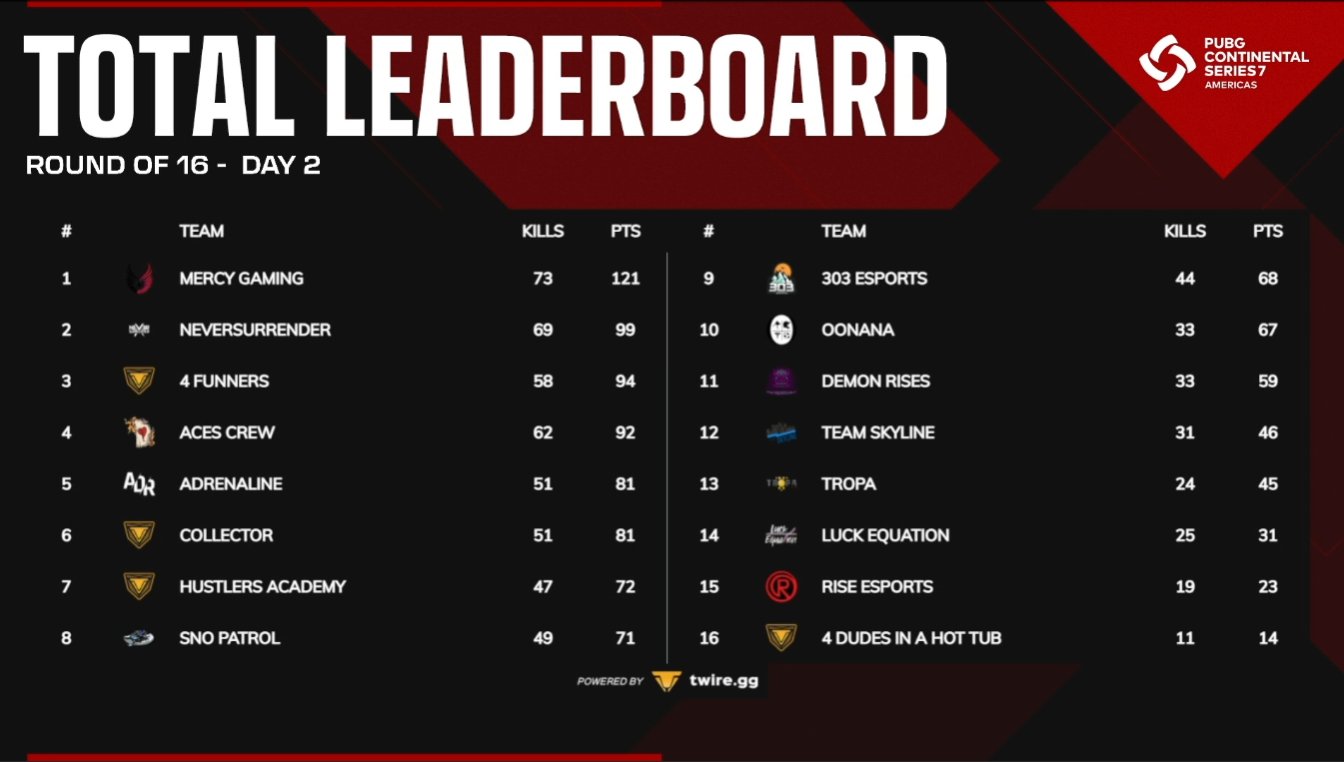 Teams to keep an eye on
Those eight qualified teams will take on sixteen teams that qualified for the Regional Playoff through their performance during ESL Masters Phase 2. We know that those teams are fierce, but which teams from the Open Qualifier should we keep an eye on during the Regional Playoff?
Mercy Gaming, including Matthew "SneakAttack" Buschick, and 4 Funners, including Jonathan "Jsank" Sanker, each earned two chicken dinners in the final rounds of the Open Qualifier. Mercy Gaming ended the qualifier with a tournament-high 73 kills and 121 points. We're excited to see how this squad does against the big dogs. 
PUBG Continental Series 7 Schedule
The North America Regional Playoff kicks off on August 19th at 4:00 p.m. PDT. The 24 participating teams will have been broken up into three groups.
There are still three more stages left to one of the final PUBG tournaments of 2022. Here are the remaining dates for each Regional Playoff, the Last Chance Qualifier and the Grand Final.
Latin America Regional Playoff – August 19th – 21st
Last Chance Qualifier – August 27th – 28th
Grand Final – September 16th – 25th
Now that the Open Qualifier is out of the way, remaining teams will have a chance to earn prize money in each of the above stages. Teams will also be awarded PGC points that go towards qualifying for the PUBG Global Championship. Here are the prize pools for all three stages of the tournament:
$25,000 for each Regional Playoff
$20,000 for the Last Chance Qualifier
$250,000 for the Grand Final
How to Watch
All the action, from Regional Playoffs to the Grand Final, will be broadcast on the official PUBG Twitch channel. If you want to get an early peek at some of the up and coming talent in the Americas scene, stay tuned to our socials for info on specific Open Qualifier streams!
We'll be covering all the PUBG Esports Americas action all year round, so make sure you're following us on Twitter, Instagram, and TikTok for more news, updates, and content.
See you on the Battlegrounds!
WHERE TO WATCH / FOLLOW
Check out our PUBG Esports content channels for VODs and streams:
Be sure to follow PUBG Esports on social media to stay up to date on all the action.