The Latin America and North America Regional Playoff for the PUBG Continental Series 7 are officially behind us. The teams for the Grand Final are nearly set, but there is still one stage before we get to that point. First, let's break down what happened in the Regional Playoff.
No team from the Open Qualifiers has made it out of the Regional Playoff, so these winning teams have only played in one weekend of PUBG action. We'll see if any of those teams who fought through three rounds of qualification make it out of the Last Chance Qualifier.
48 teams, 24 from each region, fought their way through each playoff series. Now only 16 teams remain in the fight to be the last squad standing.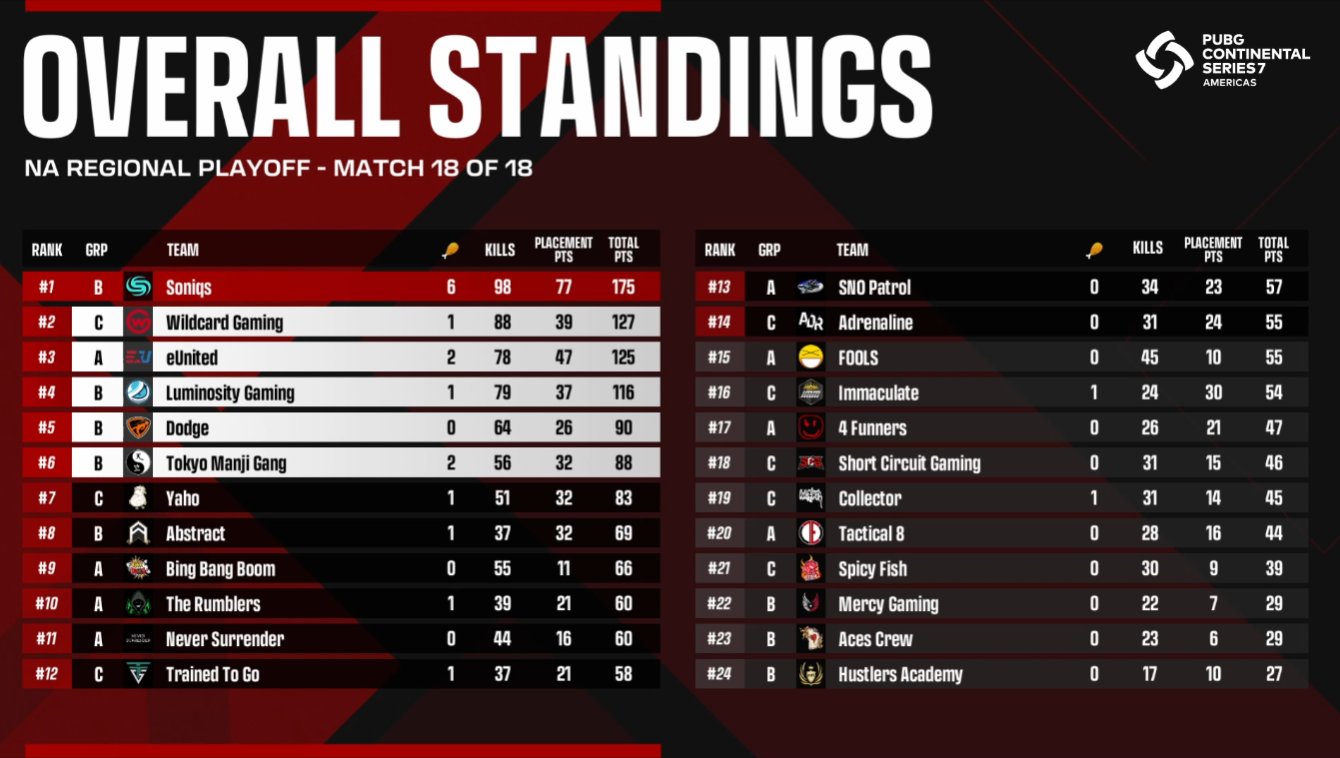 Breaking down the North America Regional Playoff
Several familiar teams came out on top when North American teams clashed over the weekend. The undisputed best team in North America – Soniqs – finished the tournament with a whopping 175 points. This squad had built a 47 point lead over the next runner up. It's hard to imagine Hunter "hwinn" Winn and company anywhere but on the podium for the Grand Final.
Wildcard Gaming, eUnited, Luminosity Gaming, Dodge and Tokyo Manji Gang all finished on the upper end of the leaderboard, meaning they've punched a ticket to the Grand Final. Teams that placed 7th-14th will need to fight through the Last Chance Qualifier in order to stay in the action.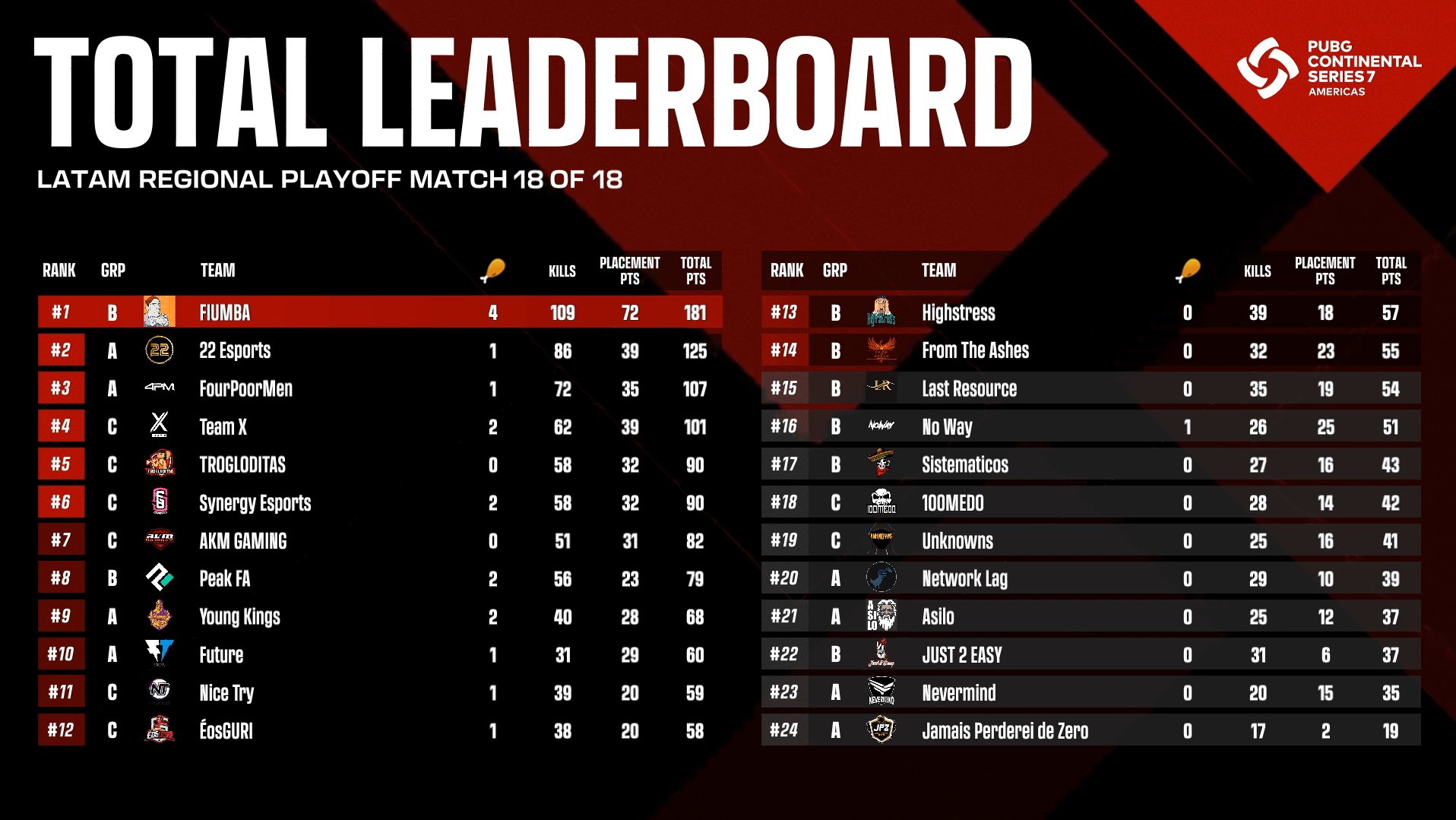 Looking back at the Latin America Regional Playoff
FIUMBA, like Soniqs in North America, blew away the competition in the Latin America Regional Playoff. This squad finished the tournament with 185 points and a 56 point lead over the next team on the leaderboard. Now we'll see if Facundo "Capitan" Solsona and the rest of the team can put up similar numbers in the Grand Final.
22 Esports, Four Poor Men, Team-X, Trogloditas and Synergy Esports have qualified for a spot in the Grand Final. The other LATAM teams who placed 7th to 14th will get one more chance to stay in the fight with the Last Chance Qualifier.
There are still two more stages left to one of the final PUBG tournaments of 2022. Here are the remaining dates for each Regional Playoff, the Last Chance Qualifier and the Grand Final.
Last Chance Qualifier – August 27th – 28th
Grand Final – September 16th – 25th
How to Watch
All the action, including the Last Chance Qualifier and the Grand Final, will be broadcast on the official PUBG Twitch channel.
We'll be covering all the PUBG Esports Americas action until the last team is left standing, so make sure you're following us on Twitter, Instagram, and TikTok for more news, updates, and content.
See you on the Battlegrounds!
WHERE TO WATCH / FOLLOW
Check out our PUBG Esports content channels for VODs and streams:
Be sure to follow PUBG Esports on social media to stay up to date on all the action.