The 2021 PUBG Global Championship (PGC) ended with China's NewHappy as the Champion! NewHappy won four Chicken Dinners and scored 159 points over three days of the Grand Final, earning first prize of $600,000. European team Heroic won 2nd place and Russian Virtus.pro got 3rd. TSMFTX, one of the 6 teams from the Americas, took 4th place, while the Latin American KPI Gaming got 12th. Spacestation Gaming was the only other Americas team in the top 16, coming in at 16th.
The Grand Final took place on Friday, Saturday and Sunday, with five matches per day, totaling 15 matches, on maps Eragel and Miramar. There were 16 teams participating: three winners from the Weekly Finals, nine from the point ranking and four from the Grand Survival.
The Grand Final had three Americas representatives: KPI Gaming, which won the first Weekly Final and secured a place in the decisive matches, TSM FTX and Spacestation Gaming.
The champions NewHappy had four wins, one on the first day, two on the second and one on the third. With the Chicken Dinners, the placement point in the other matches and the 98 kills, the Chinese team scored 159 points. Only 4 more than the runner-up, Heroic, which won two games and had 155 points, 102 of which with kills.
Virtus.pro also had two wins, but with far fewer kills – 62 – and therefore sumed 105 points – 54 less than the leader team.
With one win, TSM FTX got 101 points, 58 of which with kills, and got 4th place. KPI reached 58 points, of which 47 for kills, and was ranked 12th. Spacestation Gaming, in 16th place, had 45 points.
With the win, NewHappy took home $ 600,00 from the normal prize pool and $ 778,364 from the crowdfunding, for a total of $ 1,378,364.
TSM FTX won $ 275,673 combined prize pool and crowdfunding. KPI won $ 110,405 and Spacestation Gaming, $ 68,918.
Leaderboard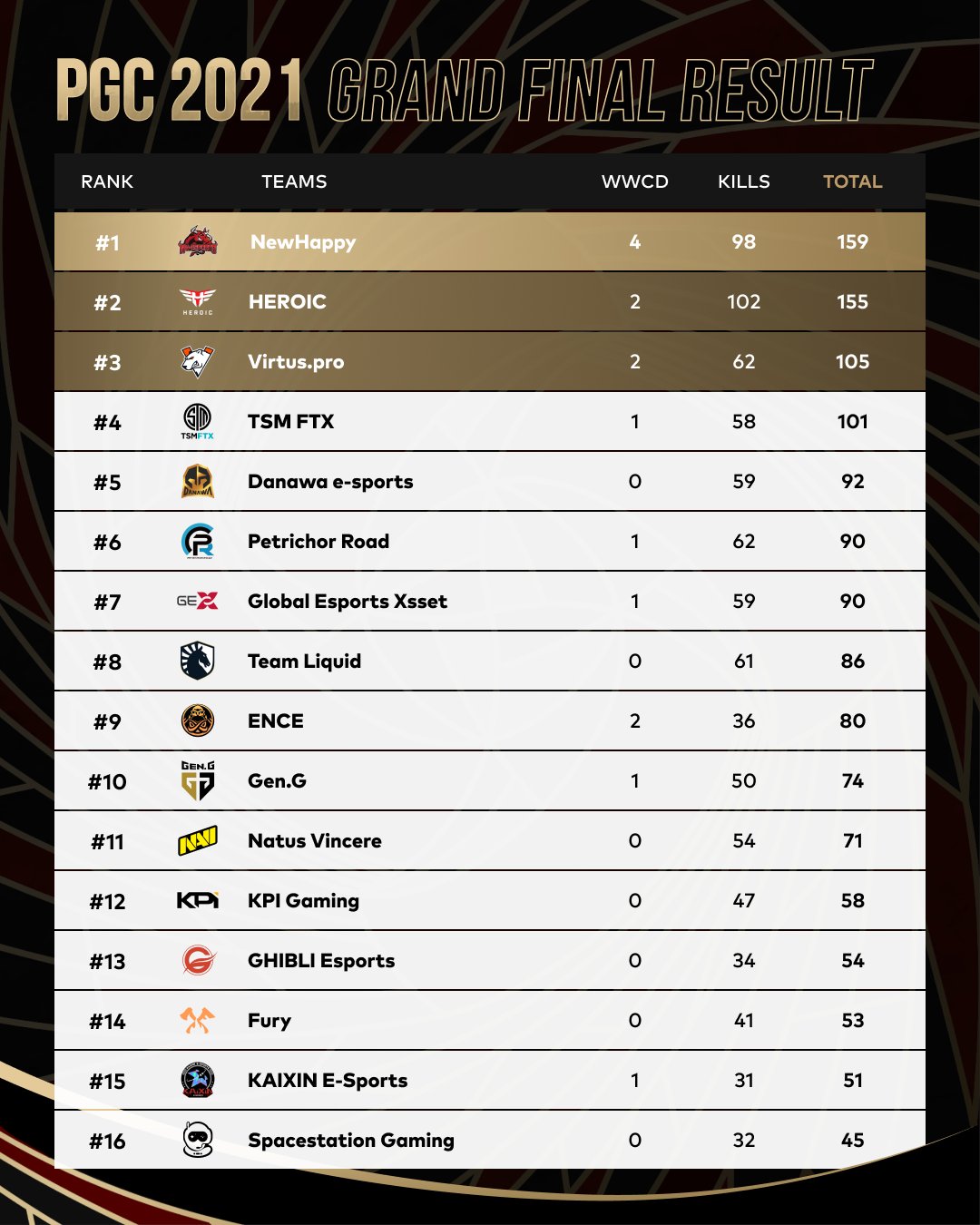 Prize Pool Leaderboard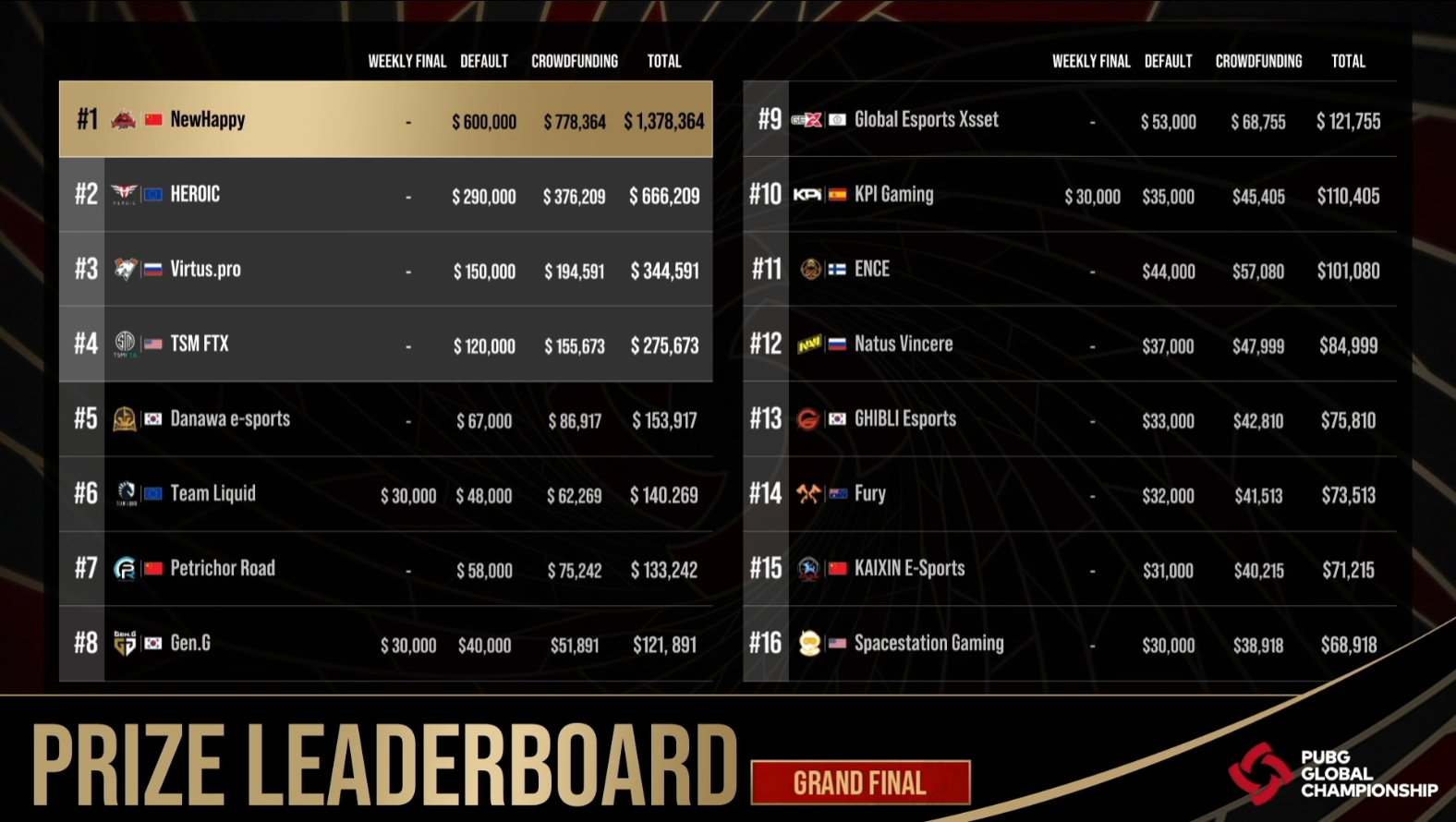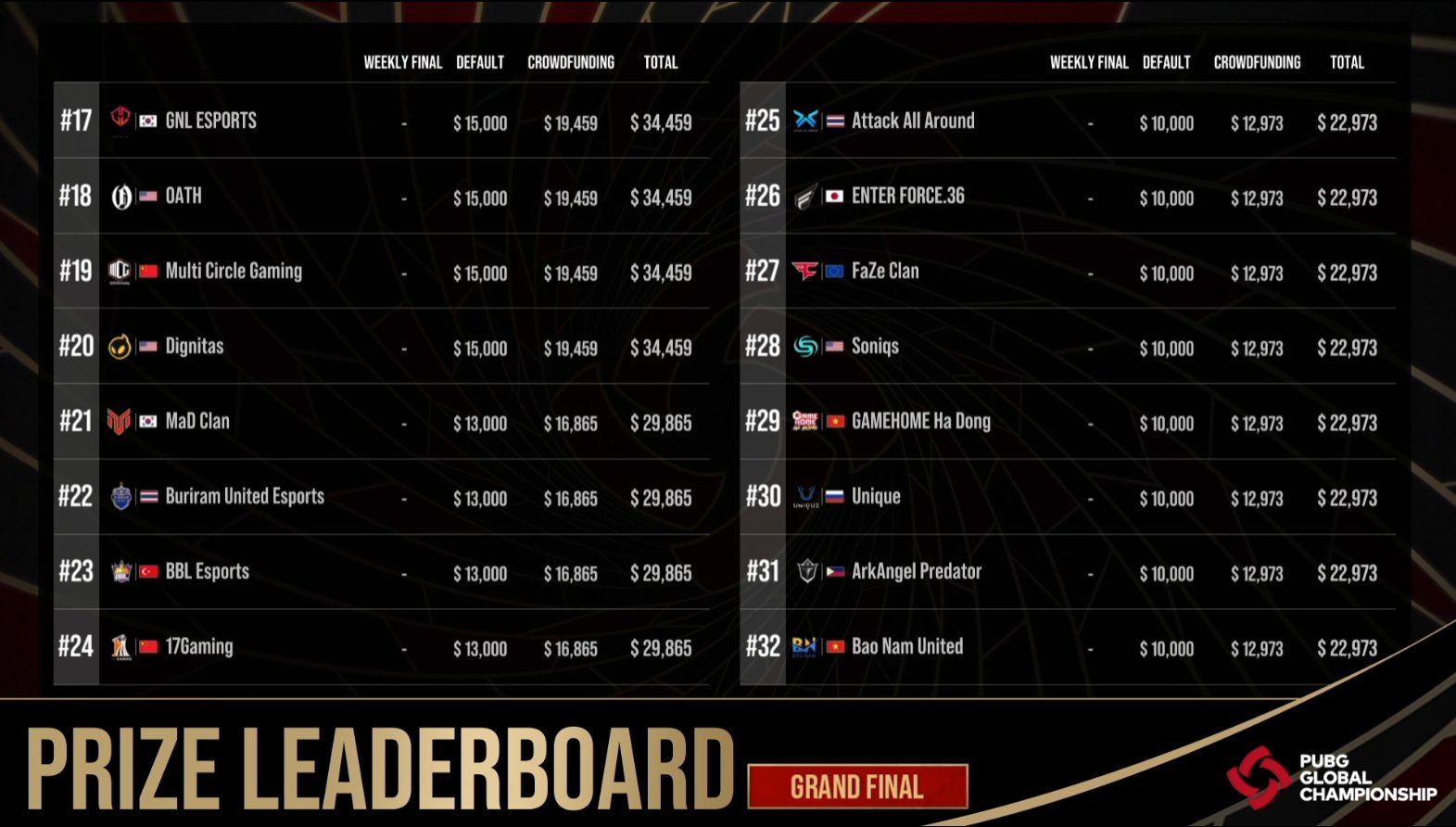 Match by match
Friday
Match 1 (Erangel): Petrichor Road
Match 2 (Erangel): NewHappy
Match 3 (Erangel): Virtus.pro
Match 4 (Miramar): ENCE
Match 5 (Miramar): Heroic
Saturday
Match 6 (Miramar): NewHappy
Match 7 (Miramar): Global Esports Xsset
Match 8 (Miramar): Gen.G
Match 9 (Erangel): Heroic
Match 10 (Erangel): NewHappy
Sunday
Match 11 (Erangel): TSM FTX
Match 12 (Erangel): NewHappy
Match 13 (Erangel): Virtus.pro
Match 14 (Miramar): KaiXin Gaming
Match 15 (Miramar): ENCE