PGI.S Weekly Final #2 consisted of 10 matches and a fresh round of PUBG Esports! Exactly  16 teams, who mastered survival in the previous  Weekly Survival matches, dropped into the Blue Zone to prove their fans proud! The Bottom16 teams (#17-32) after Weekly Survival also played 8 matches to seed for their placements in the upcoming Weekly Series.

With Four Angry Men leading the Prize Ranking leaderboard at the end of Week 2, how did your favorite team compare? Four Angry Men led the Pick'Em Challenge, so we know a handful of you succeeded. Congrats!

Let's take a look at PGI.S Weekly Final Week 2, featuring Four Angry Men's PEPS Team Average, Top 5 players leading the Kill and Damage standings, and the Bottom16 standings heading into Week 3 of PGI.S.

Join us for PGI.S Weekly Survival Week 3, starting February 23rd at 7 PM KST/2 AM PST/11 AM CET!
PGI.S WEEK 3 BROADCASTING SCHEDULE
Pick'Em Challenge Week 3 is live and your favorite teams still need your support! Crowd-funding is a huge support system for teams.

Don't miss your chance to win EP from the PGI.S broadcast and by voting. The Weekly Kill Point MVP Event is back!
WEEKLY FINAL RECAP-DAY 1 & DAY 2
In PGI.S, teams work hard during Weekly Survival matches for their chance to perform in the Weekly Final where they aim for placement and kill points to stack cash. We've seen PUBG pro teams develop strategies week-over-week to gain an edge on the competition. In the SUPER-ruleset Weekly Final, a surprising number of teams leaned into Kill Points to inch their way up the leaderboard!

With 6 newcomer teams in the Weekly Final and some of PUBG Esports fan-favorites not having made the cut, we were bound to see a shake-up on the standings. Whatever team took the top leaderboard spot also adds a solid $50,000 to their prize rank earnings! The stakes are increasing in the race for PGI.S Champion!
Gen.G came out swinging on Match 1-scoring 9 kills and the chicken dinner against infantry! It was soon clear that placement points were only half the battle. By Match 3, Triumphant Song Gaming was in 1st place with an early 19 kills, coupled with a handful of Top 4 placement points. An Afreeca Freecs hot drop on Triumphant Song Gaming and rotating placement points left tournament viewers on their seats, mostly unaware of the Four Angry Men sleeper play building under the surface of WWCDs!
Match 1: Gen.G (KR)
Match 2: ENCE (EU)
Match 3: Virtus.pro (EU)
Match 4: Zenith Esports (NA)
Match 5: Attack All Around (SEA)
At the end of Weekly Final Day 1, the Top 4 teams were ahead without a chicken dinner. Team Liquid held the same positioning in Weekly Final Week 1. Buriram United Esports was in 4th place with 33 of their 38 points as kills!
At the start of the week's Weekly Final Day 2, Four Angry Men were clearly here to win-utilizing their uniquely aggressive playstyle. They secured Match 6 chicken dinner and held onto dear life in an impressive series of battles between fellow-Chinese teams Multi Circle Gaming and infantry in Match 7.Four Angry Men play the remaining matches offensively, picking apart teams and third-partying for points. In a series of luck, their immediate competitors are taken out early during moments where Four Angry Men are vulnerable!
Match 6: Four Angry Men (CN)
Match 7: infantry (CN)
Match 8: Daytrade Gaming (SEA)
Match 9: Shoot to Kill (NA)
Match 10: Gen.G (KR)
An impressive series of wins from Shoot To Kill, Gen.G and infantry shake up the standings below Four Angry Men, who have held the first place position consistently through Day 2!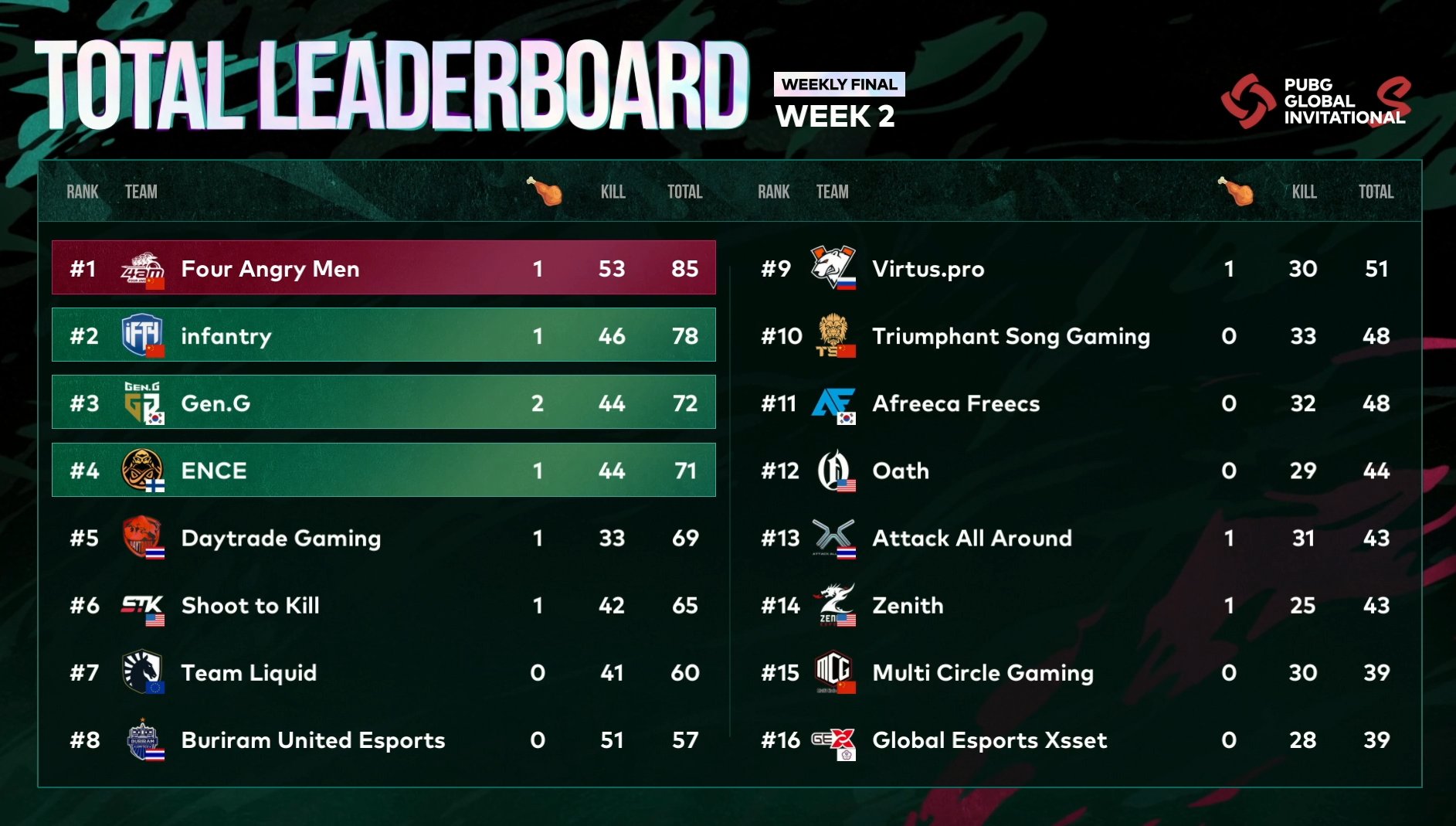 In the end, Four Angry Men finishes the Weekly Final with 85 points on the leaderboard-resulting in $50,000 match earnings.Combined with $6,250 from Week 1 and $56,115 in crowdfunding from the Pick'Em Challenge-Four Angry Men are on top of the Prize Ranking at $112,365!
PEPS ANALYSIS: FOUR ANGRY MEN TEAM AVERAGE
The PUBG Esports Player Stats (PEPS ) highlights pro player's gameplay styles and patterns-giving us a small inside look at the success driving teams to the top.

In Weekly Final Week 2, Four Angry Men played as an absolute unit. A powerhouse of a team known for their offensive style! In virtually all Battle, Strategy, and Experience stats (circle graph), Four Angry Men's Team Average was above 60 points! In their team play-style (bar graph), the unit performed imaginably balanced-usually aiming for an early, mid-circle drop. Whether fighting at short or long distance, on Miramar or Erangel, defensively or offensively, Four Angry Men's team balance shines!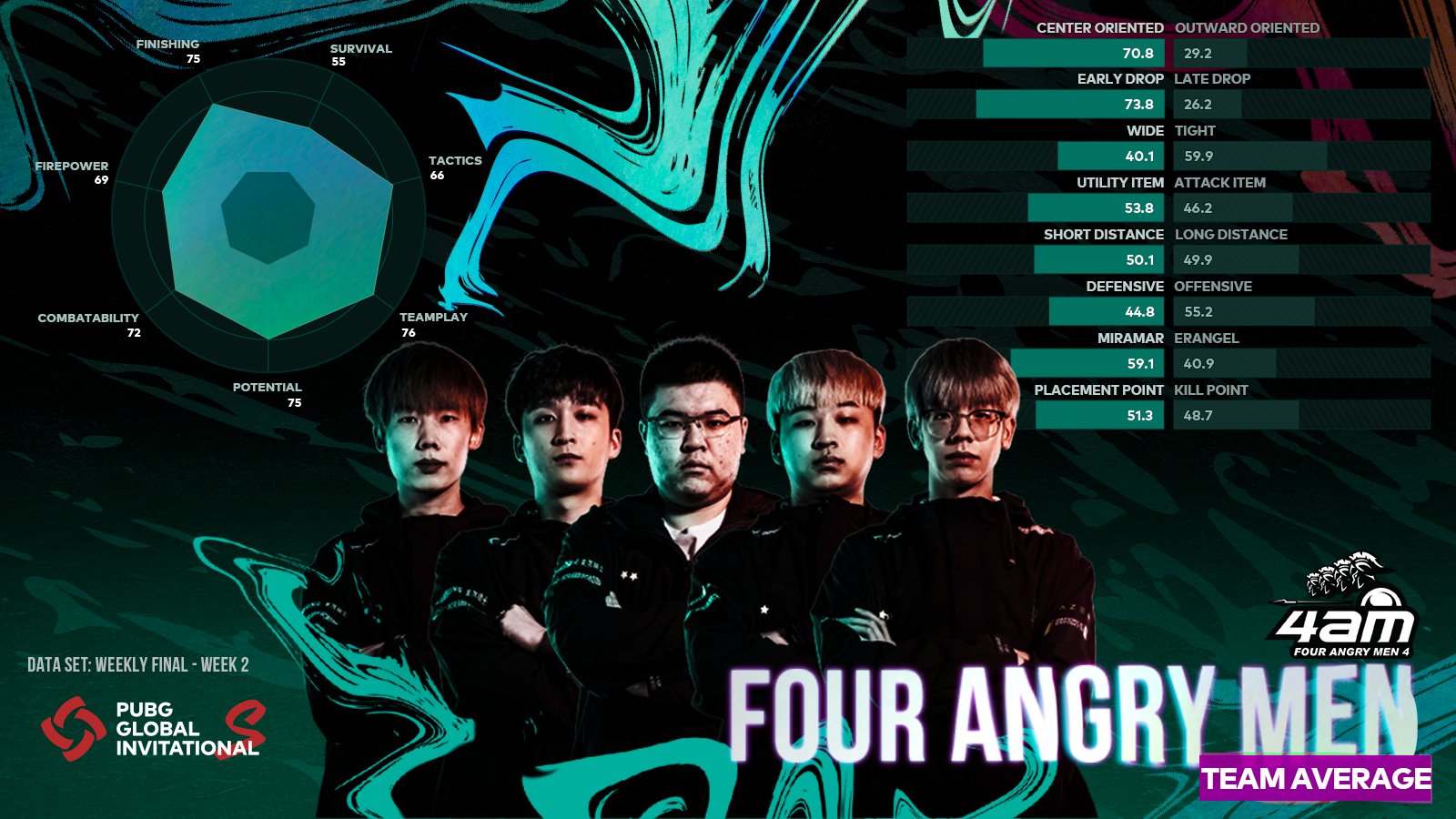 WEEKLY FINAL WEEK 2-TOP 5 KILL AND DAMAGE LEADERS
Even as Four Angry Men claimed Weekly Final Week 2, no single particular member outshined the rest. That means Four Angry Men is a consistent force to be reckoned with in PGI.S!

Regardless, we must give credit where credit is due.. Do these players leading the Top Kill and Damage during the Weekly Final surprise you?
In terms of kills, Team Liquid's jeemzz held it down. A staggering 19-kill weekend wasn't enough to lift Team Liquid out of position #7 at the end of the Weekly Final. Gen.G Pio and Loki-we see you're teamwork, dropping a massive 30 kills between the two of you.
infantry's lead in damage comes as no surprise as LongSkr scored almost 300 damage compared to #2 player-Daytrade Gaming Nourinz. LongSkr's positioning on both Kill and Damage leaders puts his barrel as most deadly after Week 2-not someone to 1v1 in a compound!
WEEKLY FINAL-BOTTOM16
Teams in the Bottom16 don't fight for cash, but they fight for opportunity-equally as important in the upcoming weeks at PGI.S! Within 8 matches, the Bottom16 teams have a chance to position themselves soonest to secure a WWCD in PGI.S Weekly Series #3!Last week, Global Esports Xsset surprised everyone by snagging a Weekly Final placement with only 2 games in Weekly Survival, so for teams positioned #25-31, there's still a fighting chance!

This time DetonatioN Gaming White is stuck in the waiting room until the forthcoming Weekly Series!

At the end of Bottom16 Week 2, Meta Gaming, TSM, and T1 will be the first 3 teams to enter the survival ring!
For PGI.S daily and weekly updates:
Twitch
YouTube
Twitter
TikTok
Instagram
Reddit