The second-ever PUBG Nations Cup 2022 showcased an all out race between three teams, Team United Kingdom, Brazil and Vietnam. The three teams held tight as the second day of matches came to an end. The UK ended the second day of matches with a dud game where they placed seventh with five kills. 
"[It] all comes down to the last 5 games, the boys are killing it so far," said Team United Kingdom's Luke "TeaBone" Crafer in a tweet. "Tomorrow will be interesting."
TeaBone and the rest of his squad began the third match day with a bang. They landed a third place finish with four kills to start the day and then immediately followed it with a 12 kill round and a chicken dinner. They ultimately placed within the top three for three out of five matches on the final day. The four man squad earned 22 kills during those matches.
It was enough to help them finish first and bring home $100,000 from Bangkok. That's a huge improvement from the $10,000 Team United Kingdom took home for 15th place while competing at the PUBG Nations Cup in 2019 in Seoul. Coach Justin "MiracU" McNally, Alex "vard" Gouge, and Michael "mykLe" Wake played for both teams.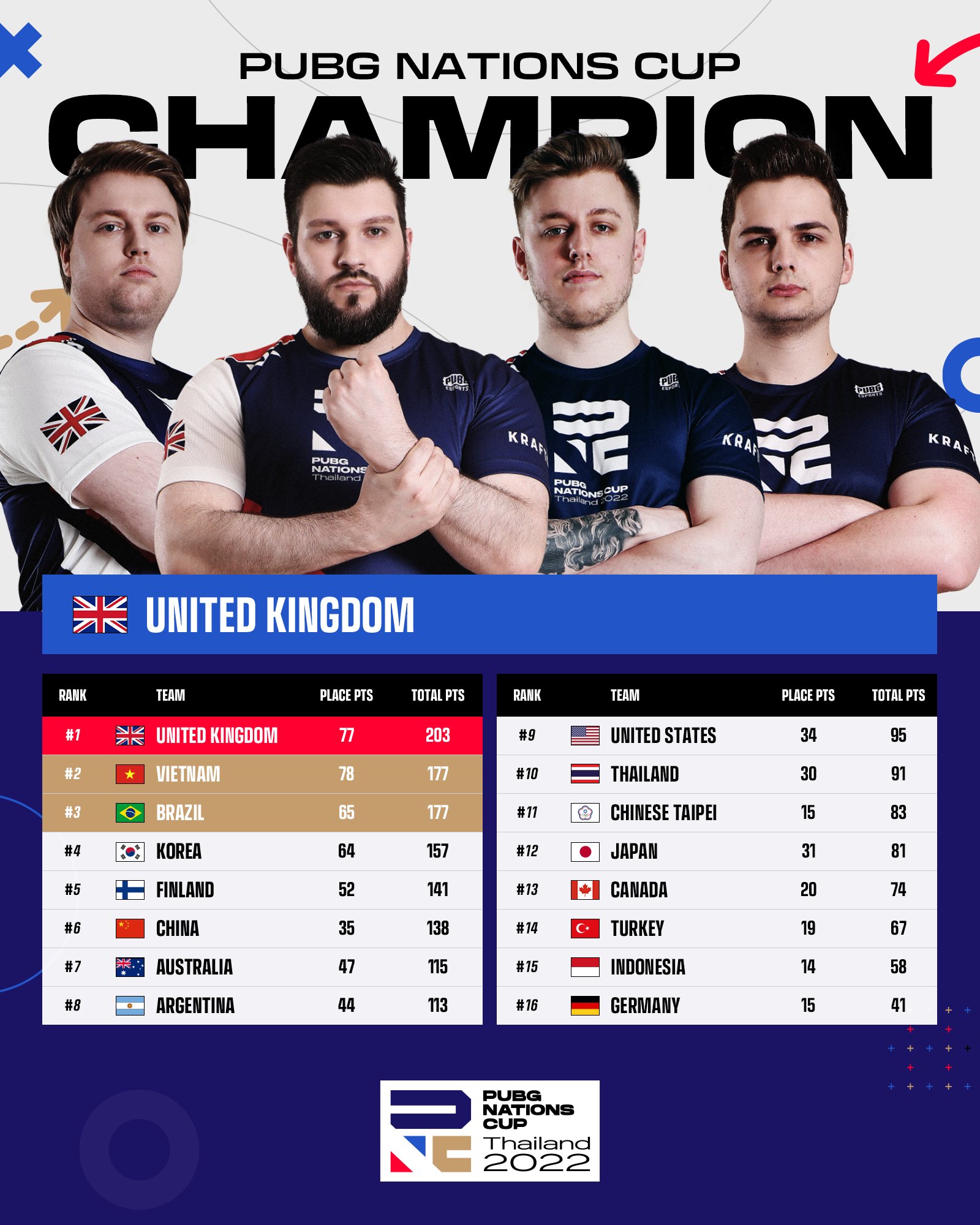 "We actually did it…pretty damn surreal honestly, I don't think anyone ever expected us to win the PUBG Nations Cup but the boys showed up massive!" vard said in a tweet. "Crazy feeling and couldn't be happier [right now], thank you to all that cheered for us!"
Team Brazil is the only squad from the Americas to break into the top five. Team United States placed 9th, Team Argentina placed 8th and Team Canada finished in 13th. You can read more about how Brazil and the rest of the Americas matched up to the international competition right here.
Team United Kingdom, made up of Vard, who plays for Team Liquid, as well as Heroic's TeaBone, FaZe Clan's Christopher "Fexx" Wheddon, and XPLDZ's mykLe earned 203 points throughout the four day tournament. A tournament high 126 kills, four chicken dinners, and 11 finishes within the top five line make up an impressive statline for these Europeans.
This team let everyone know that they were in Bangkok to win right off the bat. They earned 37 kills – as well as a third place, first place, and second place finish – across the first three matches. Team Vietnam and Brazil were two of the only teams that kept pace with the UK, with Vietnam matching the United Kingdom's pension for high placements early on in the first day of matches.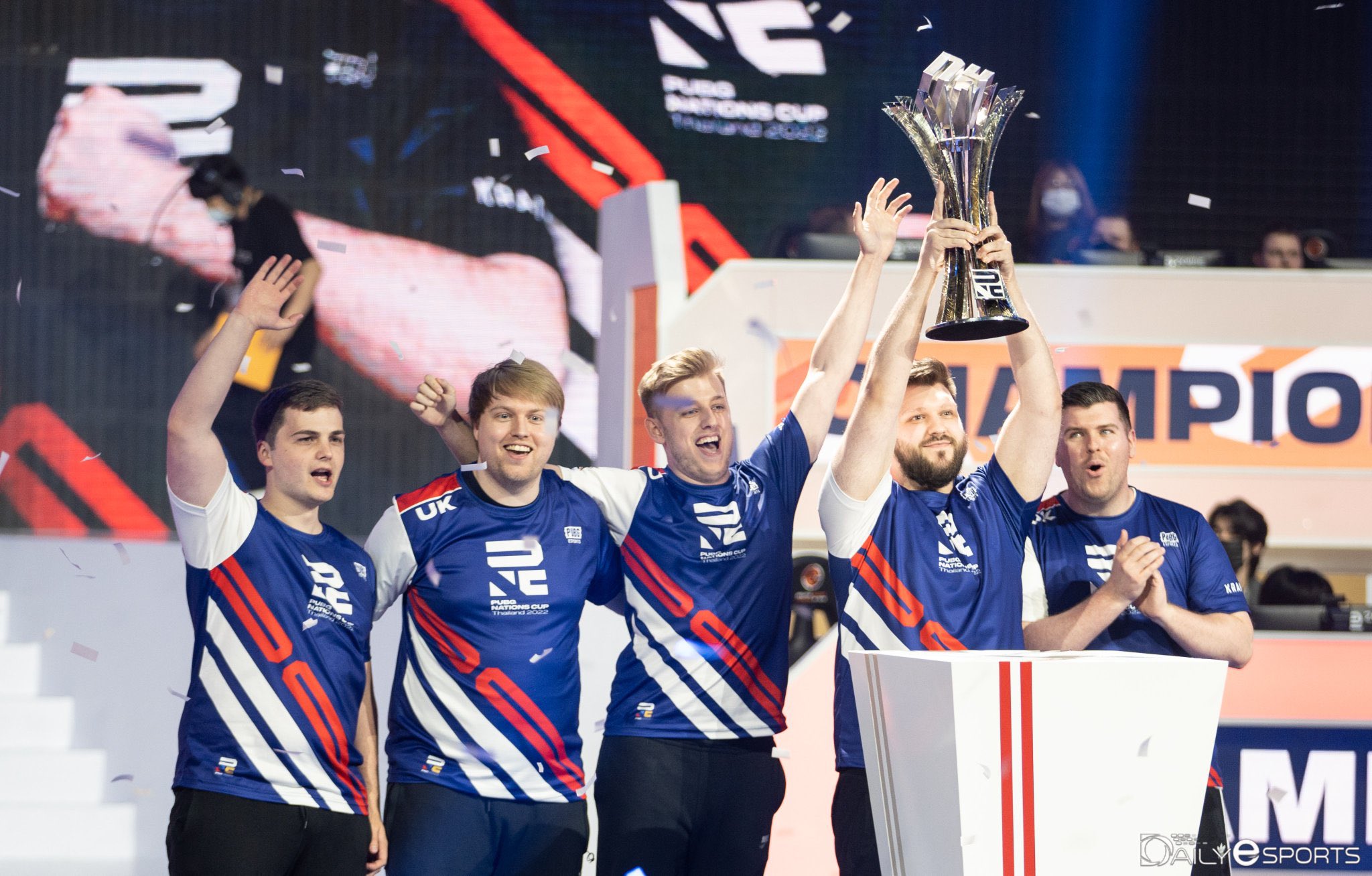 Team Brazil had four wins of their own by the end of the second match day, but they faltered in several of their games with low placements. Both they and Team Vietnam knew that it would all come down to the final day.
"Today was not as expected, we had collective mistakes and that provided us with an OK day, no one expected us to get where we are." said Team Brazil's Erick "Haven" Aguiar in a tweet. "The fight for the top 1 is already a reality. Tomorrow we will lift that trophy."
Team United Kingdom had a nine point lead heading into the final day. MykLe and company increased that lead in the first two games, making it near impossible for Brazil or Vietnam to catch up. Not even Team Vietnam's two chicken dinners in the final matches of the tournament could close that gap.
Team United Kingdom would go on to end the tournament with a 23 point lead.
"What an unbelievable feeling it is to win a trophy for your country," mykLe said. "Thank you so much for the support everyone!"
TeaBone and vard celebrated the win with a king sized burger and fries at the Bangkok airport before flying back home. It wasn't chicken, but it was still delicious.


WHERE TO WATCH / FOLLOW
Check out our channels for VODs and streams:
Be sure to follow PUBG esports on social media to stay up to date on all the action.